Here are some highlights from our third week of school!
---
OUR LEARNING:
Behavior – We wrapped up our "Cool Tools" activities this week. Our kindergarteners now have a "toolbox" full of problem-solving and friendship strategies. We will be practicing using our cool tools throughout the whole school year! 
Popcorn Words – Our popcorn words this week were "I," "see," and "yellow." We sang songs about the color yellow, learned about our friend Yasmine Yellow, colored with yellow crayons, made a yellow school bus craft, and wore lots of yellow to celebrate our learning! We also searched for the words "I" and "see" in morning messages and books throughout the week.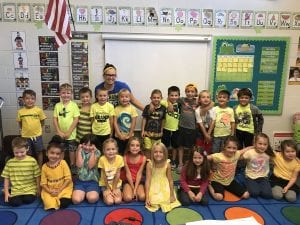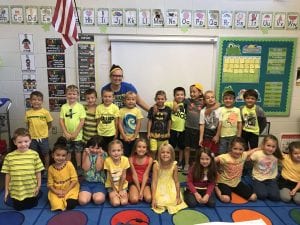 Math – This week, we got to draw our own math "scenes" for the numbers 2 through 5. For our scenes of 2, we drew 2 trees, 2 houses, 2 cats, etc. This helps students to get a good grasp of each number! We also continued learning how to write our numbers this week, by writing #4 and #5 on whiteboards and in our number writing books.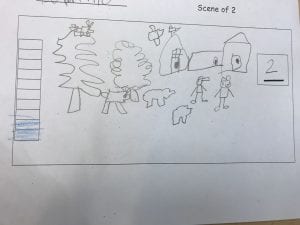 Writing – We started putting our pencils onto paper during writing this week! We've begun by drawing sketches that tell a story. For example, we drew a picture and added details of a school bus to tell the story of our special bus tour! Students are also learning how to add labels to their sketches to tell the reader what they drew. 
Reading – We began our reader's workshop this week by learning what our jobs are during reading time. I have some special jobs, and so do our kindergarteners. 🙂 We also learned that we can be a reader ANYWHERE! We can read words all around us, not just in books. We practiced this by finding things we can read around our classroom: the word wall, our name tags, the bathroom signs, and more! Additionally, we've continued our shared reading with poems for Cc and Dd. 
Bus Tour: On Tuesday, our class got the chance to learn all about bus safety! We learned how to get on and off of the bus, how to sit Bottom-to-Bottom and Back-to-Back, and how to behave when we're on the bus. We even got to go for a little drive on the school bus. Thanks so much to our bus drivers for always keeping our kids safe!!
---
CELEBRATIONS:
Top Frog – We loved having Gabe as our Top Frog this week. Next week's top frog is Kayla! Your child will have a chance to be our top frog soon, too. 
Outstandings – Our kindergarteners did an amazing job during our tornado, fire, and lockdown drills this week! We earned 3 "Outstanding" awards from Mrs. Reagan for our super behavior during these drills!
---
Notes for Parents:
Would you like to be a mystery reader in our classroom this year? Follow this link to sign up for a date to surprise our class. 
Remember to send in two snacks with your kindergartener each day. We have hungry bellies, and these snacks give us energy to keep learning! 
Please make sure to check your child's FROG folder every day.
---
Upcoming Dates:
Monday, September 17 – 

STEAM

Tuesday, September 18 – Music,

Library, Micah's birthday!

Wednesday, September 19 –

P.E.

Thursday, September 20 – Art, 

PTC Meeting 

Friday, September 21 –

Music

,

Wear BLUE

Thursday, September 27 – Picture Day