OUR LEARNING:
Popcorn Words – Our popcorn words this week were "today," "play," and "away."

Math – We kept plugging along in Unit 5 this week by writing lots of partner equations! For example, if the total is 6, we can write 1+5, 2+4, 3+3, 4+2, or 5+1. We also practiced making equal groups by adding or subtracting numbers. 
Writing – We continued our OPINION writing unit this week! This week, we wrote our opinions about the following topics: beach or pool, summer or winter, and ice cream in a bowl or on a cone. (This ice cream example went along perfectly with our ice cream party!)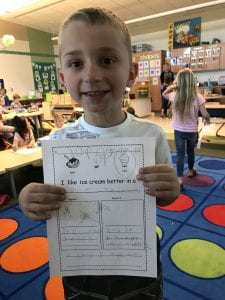 Reading – This week, we learned about an important part of most stories: DIALOGUE! We explored lots of books with dialogue and practiced changing our voices to match the different characters in the texts. Elephant and Piggie books are a perfect series to exemplify dialogue! Also, on Friday, we read "M is for Mitten" to celebrate our great state. 🙂   
Living & Nonliving Things – We sent our plants home on Wednesday! The kids were so excited to bring them home and watch them bloom/grow. (FYI – here are the seeds in your child's cup. The letter on his/her cup is the first initial of the seed they picked.) Our caterpillars are growing, too! They are now in their chrysalises. 
Fifth Grade Camp: Our fifth grade buddies went to Camp Henry for 5th grade camp on Thursday and Friday. Our class decided to send them off with some acts of kindness. We decorated bags and wrote fun notes to each fifth grader; then, we filled the bags with camp-themed activity packets and some snacks & treats. We even surprised the fifth graders by delivering these bags to their classroom on Wednesday. Our kinders were so excited to do this act of kindness for their buddies! We even snuck into their classroom on Friday and read a story while they were gone at camp. 🙂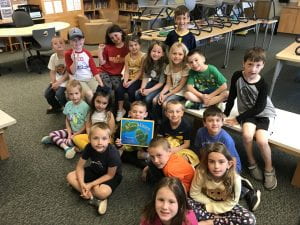 American Symbols: This week, we started learning all about symbols of the United States! We started by learning about the American flag (and designing our own flags based on things that are important to us). Then, we learned about the bald eagle and the Statue of Liberty. I wonder which symbols we will learn about next week!
---
CELEBRATIONS:
Top Frog – Every kinder will get the chance to be the Top Frog for one more day when they bring home our ESTIMATION JAR! This fun math practice will help us with our number sense skills, and will be a fun game for our class to play each morning with the top frog.
This week, Jayce brought whoppers candies, Elise brought chocolate eggs, Gabe brought Lego pieces, and Quinn brought things from her desk! I wonder what other kindergarteners will bring in next week???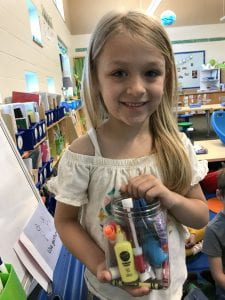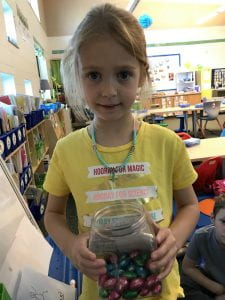 Mystery Reader – Elise's mom surprised us on Thursday and read two fun books to us – one was written by the same illustrator as "The Day the Crayons Quit." What a fun connection for our kinders to make! 
Ice Cream Sundae Party: We celebrated our most recent 15 star reward by having an ice cream party! The kindergarteners voted on their favorite toppings for the sundaes, and they got to pick how they wanted their sundaes made. Such a fun afternoon!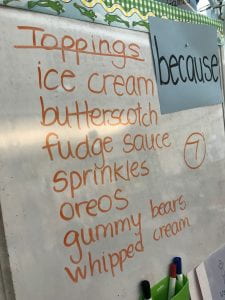 ---
Notes for Parents:
This year's Kindergarten Olympics (field day) will be held on Friday, May 31. If you are able to volunteer, please return the gold form! 
Take-Home Books – This week will be the last week for take-home books! Next week (May 29) we will be collecting all take-home book baggies. Let's make the most of these last few weeks of reading growth in kindergarten!
---
Upcoming Dates:
Monday, May 20 –

P.E.

,

Take-Home Books

Tuesday, May 21 –

Art

,

 Library (return only)

Wednesday, May 22

 – STEAM, Take-Home Books 

Thursday, May 23 –

Music,

 Take-Home Books

Friday, May 24 – P.E.,

Wear red, white, and blue
Let's make these last 13.5 days of kindergarten the BEST possible! I can't believe this week is already our last full week of school!