Notes for Parents:
Here is the note that came home about Valentine's day cards. Please let me know if you have any questions!
Interested in purchasing PE Apparel from our annual fundraiser? Here is the link to the ordering website. Orders can be made until January 29.
Please email me your child's winter sport schedule so I can come cheer him/her on!  
---
CELEBRATIONS
Top Frog – We have been learning about empathy, kindness, and compliments over the past few weeks. Each day, every first grader writes a kind, complimentary note for the Top Frog and put it in his or her special envelope. Emma P, Kendall, Lily, Rocco, and Colton got their Heart Notes this week! 
Quote of the Week – Each week, our class learns about a new quote and spends the whole week trying to embody that quote. At the end of the week, Miss Hutchison awards a friend from our class who really shined with that quote's energy from throughout the week. This week's quote went to CHARLOTTE for being a role model!
First Grade Family Time – Every Friday, all of the first graders at Georgetown get together for a little assembly! At the assembly, we celebrate our learning, give awards for the quote of the week, along with awards for lost teeth, shoe-tying, & birthdays from the week. Here are our "award-winning" first graders from Friday's family time.
Mystery Reader – Logan's mom and his little sister came to read to our class on Tuesday. Then, Kendall's mom surprised us as our mystery reader this Wednesday! Thank you for visiting our class. 🙂
---
OUR LEARNING:
Reading– We have been exploring characters over the past few weeks. This week, we practiced talking like the characters in our books and even acting out parts of stories like the characters would! 
Writing – We have continued writing reviews this week by learning a variety of strategies to use when trying to convince our readers! First graders are writing about things that they think are the best: best restaurant, best movie, best athlete, etc.  
Math – We learned how to draw ten sticks and ones circles to make numbers. We also practiced comparing two digit numbers using >, <, and =. (For example, 16 < 61.)  
Word Study – We reviewed contractions this week by playing a few different games with the word cards including memory and go fish!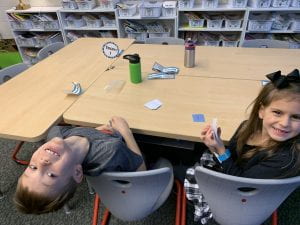 ---
Upcoming Dates:
Monday, January 27 –

Music

Tuesday, January 28 –

PE, library

Wednesday, January 29-

Art

Thursday, January 30 –

STEAM

Friday January 31 – STEAM,

Early Release @ 12:15 pm

Monday, February 3 and Tuesday, February 4

–

NO SCHOOL (midwinter break)

Wednesday, February 5

–

Miss Hutchison will not be at school