OUR LEARNING:
Popcorn Words: This week the words 'he' and 'she' popped in to our classroom. We also started learning more about the "sh" sound and spelling during our word study block each afternoon. We used our whiteboards to sound out and spell many different words that have the 'sh' sound in them!
Math Stations: We continued working on our addition and subtraction fluency within 5 (equations like 0+3=3 or 2-1=1). We also made more teen number displays (drawing dots to represent teen numbers….15=10+5). Additionally, we discussed the equal sign = and what it means. The numbers on both sides of the equal sign have to be the SAME. 
Reading Workshop: This week, we practiced two new reading superpowers: POINTER POWER and SNAP WORD POWER. Pointer Power helps us point under each word as we read. Every word, whether it's a long word or a short one, gets just one tap of our pointer finger. Snap Word Power encourages us to read the words we already know in a "snap!" Our snap word power reminds us to be on the lookout for popcorn words in our reading. The more your child practices popcorn words at home, the more comfortable he or she will become with reading books!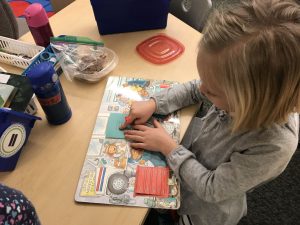 Writing Workshop: We continued writing small moment stories this week, but this time, the students were given the opportunity to write on their own and at their own pace. After coming up with an idea and sketching on a planning page, students tell me their story verbally before beginning to write on their own. Students are using transition words such as First, Next, and Last on each page of their stories. They also practice re-reading their writing to make sure they didn't miss any important words or sounds. We have a class full of creative and talented writers here in the Frog Room!!!
---
CELEBRATIONS:
Birthdays: This week, we celebrated Kyle's half-birthday (since he will be turning 6 in July.) Thanks for the awesome goody bags, Kyle!! 
Top Frog: We loved having Drew as our Top Frog this week! Lauren will be our next top frog.
Mystery Readers: We had two more mystery readers visit our classroom this week! On Wednesday, Jace's mom came and read us a silly book about monsters. Then, on Thursday, Katherine's brother, Sean, came over from his first grade classroom next-door to read us two books. Our kindergarteners get so excited to see their loved ones in our classroom!!
Lunch Buddies: One of my favorite parts of the day is when I get to take the time to talk with my sweet kindergarteners! With this in mind, I started a special event in our classroom: Lunch Buddies. Each day, one kindergartener gets to have lunch with me and a friend (if they want to). I LOVE, LOVE, LOVE spending this quality time swapping stories and laughing with these friends!! 
---
NOTES FOR PARENTS:
P.E. Apparel Orders: If you would like to purchase any Hudsonville Apparel, please turn in your forms and payment to me by this Tuesday, January 30. 
100 Day Collections: An orange note came home with your kindergartener on Friday regarding our 100th day celebration on February 9. If you missed the note about starting your '100 Collections,' you can find it below. I can't wait to see all of your collections!
Valentine's Day Party: We are still in need of a number of people and donations for our Valentine Party on February 13. If you are interested or available, please sign up on this spreadsheet. 
Valentine Cards: A pink note came home with your kindergartener on Friday describing our classroom Valentine Card exchange. If you missed the note, you can find it below. The kindergarteners are looking forward to passing out valentines to one another! 
---
UPCOMING DATES:
Monday, January 22 – Art

Tuesday, January 23 – STEAM, Library Books due, Apparel Orders due

Wednesday, January 24 – P.E., Homework Due

Thursday, January 25 – Music

Friday, January 26 – Art, Early Release with 12:15 dismissal