We had a blast celebrating our 100th day of school today! Here are some snapshots of the fun things we did to celebrate.
---
100 Collections
The kindergarteners were so excited to share their 100 collections with the class this morning. Each one got a turn to share while the class kept a log of all of the things people brought in. We had pennies, shells, legos, stickers, thumbprints, and lots more!! 
---
If I had 100 dollars…
Each student made a page in our next class book: "What would we do with 100 dollars?" Their responses were hilarious…you'll have to check the book out at spring conferences next month!! We had kindergarteners spending $100 to buy mansions, mustangs, gum, balloons, necklaces, puppies, and more!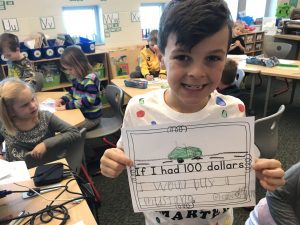 ---
Race to 100
Students practiced counting to 100 and "counting on" from a given number by playing the Race to 100 game with a buddy. They each took home a game board so you can play at home for math review, too!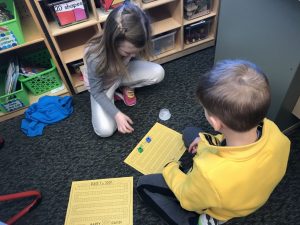 ---
Hershey's Kiss Scavenger Hunt
Miss Hutchison brought in a collection today, too….but my collection was hidden all around the classroom! The students had to work together to find 100 Hershey's kisses spread throughout the room. They loved adding each one to our grid until we finally found all 100 of them. Way to go, kindergarteners!! 
---
Penny Flips
Today, the kindergarteners learned how to flip a coin, recognize heads or tails, and record the results of a coin toss. We got lots of practice with this skill because they flipped a coin 100 times!!! 
---
100 Snacks!
After music, Miss Hutchison had a surprise snack ready for the kindergarteners. They counted out 10 of each item (goldfish, pretzels, teddy grahams, etc.) and put them on their special 100th day "plates." They had some full bellies after they enjoyed our snacks, and we were able to review skip-counting by 10s while we were at it!!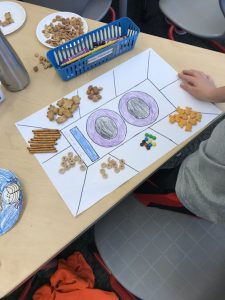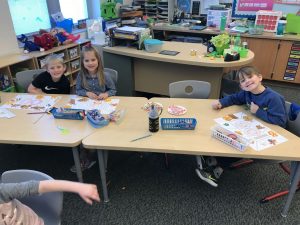 ---
100 Minutes of Play
Throughout the day today, our class was able to enjoy 100 minutes of play time (recess, break times, and play centers). Here are some of the play centers students got to choose from today:
Gumball Machine Craft: Students used do-a-dots to make 100 gum balls. 

100 Blocks: Students built a town out of 100 wooden blocks. 

100 Cubes: Students made a long row of 100 unified cubes, counting all along as they added more pieces! 
---
We had such a fun day together celebrating 100 days of learning, laughing, and spending time with one another here in kindergarten! Throughout the day, I set a goal to tell the class 100 things I loved about them…they are such special kindergarteners, and I'm so grateful to have spent the past 100 days as their teacher!