OUR LEARNING:
Popcorn Words – Our popcorn words this week were "about," "home," and "went." We are becoming super readers, and we know TONS of popcorn words now!

Math – We focused lots on teen numbers this week by building teen numbers out of base ten blocks, making a teen number matching game to bring home, and more. We also started learning how to compare two numbers as "greater than," "less than," or "equal to." The alligator always opens his mouth to eat the bigger number! (Example: 5 > 3) 
Writing – We did it! Your amazing writers finished their small moment writing unit this week by writing FABULOUSLY AMAZING stories about library for their On-Demand Assessment (which is a time when they do all of the writing, drawing, and editing completely by themselves!). I can't wait for you to see the great stories they wrote at conferences this week! 
Reading – We finished Unit 3 of Reader's Workshop this week by checking out the ways that popcorn words can "disguise" themselves with different endings (-ing, -ed, -s). We searched for these sneaky disguised popcorn words in our book boxes, too! 
Me on the Map – We finished our "me on the map" booklets this week by learning about our addresses! We practiced writing our street names and house numbers, and we each drew a special map of our bedrooms to show our special spot on the map. 🙂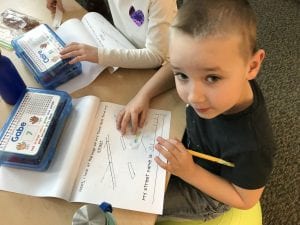 ---
CELEBRATIONS:
Top Frog – We loved having Harper as our Top Frog this week. Liam will be our new top frog next week. 
Mystery Reader – Colton was so excited to see his grandma walk through the door on Thursday! She read us two super cool books from one of our favorite authors, Mo Willems. 
Kids Heart Challenge – Our kiddos started learning about the Kids Heart Challenge (formerly "Jump Rope for Heart") this week in P.E.. Please take a moment to check out this blog post and register your child for this awesome challenge! 
March is Reading Month Fun – In addition to reading with other classes and having fun reading days, we've also been lucky enough to have some special book-themed snacks during Reading Month! Nathan's mom helped us celebrate Dr. Seuss' birthday on March 1 with some Cat-in-the-Hat string cheese, Barbaloot teddy grahams, and green eggs and ham candies. Then, last week, Evan's mom brought in a special One Fish, Two Fish, Red Fish, Blue Fish snack for our class! Thank you so much for making reading month fun for our kiddos!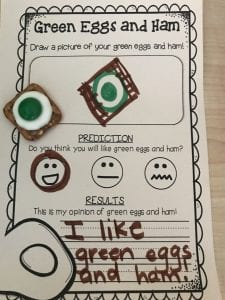 ---
Notes for Parents:
Take-Home Books are in full swing. Please be sure to read these books with your child and return them to school on Mondays, Wednesdays, and Thursdays!
March is Reading Month – If you would like to sign up for a breakfast item for our Reading Month Breakfast on March 22, please sign up on this spreadsheet. Also, if you would like to send in a book-themed snack on another day in March, please sign up on this sheet as well. Thanks for supporting our eager readers! 
Parent Teacher Conference forms are this week on Monday and Wednesday! I can't wait to catch up with you and share the amazing progress of your kindergarteners! 
---
Upcoming Dates:
Monday, March 11 – STEAM

,

Take-Home Books

Tuesday, March 12 –

Music,

 Library

Wednesday, March 13

 – P.E., Take-Home Books,

Book Fair Shopping Day!

Thursday, March 14 – Art, 

Take-Home Books

Friday, March 15 – STEAM

,

Wear crazy socks & GREEN (for St. Patrick's Day)