I hope you had a relaxing and fun spring break! Before we dive into these last 9 weeks of kindergarten, here's a look back at our learning from the week before break. 
OUR LEARNING:
Popcorn Words – Our popcorn words this week were "as" and "has." We are becoming super readers, and we know TONS of popcorn words now!

Math – This week, we continued to compare numbers (greater, less, or equal), write numbers 1-20, and learn about teen numbers. We are also practicing adding and subtracting more fluently (quickly!).  Plus, we learned about how to use math mountains to show addition or subtraction equations.  
Writing – This week we learned about another animal for our writing unit: "ALL ABOUT" books. We spent the week researching HORSES, then we sorted our facts into things that horses "can / have / are." After that, we wrote our own nonfiction books with facts and realistic illustrations about goats.  We can't wait to learn about a new animal after break! 
Reading – We continued Unit 4 this week by learning what it means to be an AVID reader!  Avid readers also have reading playdates with others to talk about the books they are reading! The class loved hanging out and reading in their playdate groups! We also set our own reading goals this week! Each kinder has their reading goal made into a bookmark to help them remember to practice it! 
4th Grade Reading Buddies – As part of our reading month fun, Mrs. Huizenga's fourth grade class came to read with our kindergarteners. We have LOVED reading with every different grade level at Georgetown…it really motivates us to keep reading so we can become expert readers like the fourth graders! 
Pizza Party – We celebrated our most recent 15 star reward last Thursday with a PIZZA party and a PJ day! Our class munched on yummy pizza, veggie straws, and fruit snacks, and we also got to lounge around in different classrooms to read in our jammies. What a fun and relaxing way to kick off spring break!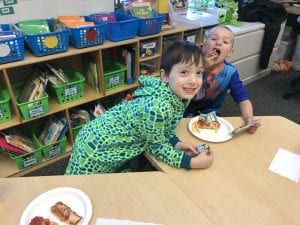 ---
CELEBRATIONS:
Top Frog – We loved having Jayce as our Top Frog this week. We have made it through everyone in the class! Your child will have the chance to be the top frog for one more DAY this year…be on the lookout for details about this "Top Frog Day!"
Mystery Reader – Colton was surprised to see his sister, Hayden, as our mystery reader on Wednesday! She read us two books by one of our favorite authors, Mo Willems. Thanks for sneaking out of your fourth grade class to come join us, Hayden! 
March is Reading Month Snack – On Monday, Ms. Sherry (Miss Hutchison's mom) came to visit, and she read us the book Thundercake by Patricia Polacco. We mixed the ingredients along with the story, then enjoyed a piece of thunder cake after she finished reading. Then, on Tuesday, Miss Fewell came and read us her favorite childhood book, Curious George Makes Pancakes. She gave us yummy pancake cookies! Thanks for celebrating March is Reading Month with us! 
---
Notes for Parents:
Take-Home Books are in full swing. Please be sure to read these books with your child and return them to school on Mondays, Wednesdays, and Thursdays!
Summer Tutoring Option – If you are interested in signing up for a tutoring block this summer, please sign up on this spreadsheet. Two of my other days are already fully booked, so these Thursday slots will likely fill up quickly! 
Spring Sports – If your kindergartener is participating in any spring sports (baseball, softball, soccer, lacrosse, dance recitals, etc.) PLEASE send me some dates when I could come cheer them on! I love getting to watch our little ones do what they love, since they watch me do what I love every day (teaching them!) 
---
Upcoming Dates:
Monday, April 8 –

P.E

., Take-Home Books, celebrate

Eline's birthday!

Tuesday, April 9 –

Art

,

 Library

Wednesday, April 10

 – STEAM., Take-Home Books,

Henley's birthday!

Thursday, April 11 – Music,

 Take-Home Books

Friday, April 12 :

Early Release @ 12:15 pm

, 

Colton's birthday!