Here's a look at what we did during our day and a half of school last week! 😊
WEDNESDAY: GROUNDHOG DAY LEARNING
We read a few books about the legend of Groundhog Day, and we went through a special magazine that we got to take home! We also made a groundhog's day burrow craft where the groundhog could "pop" out of his burrow to check for his shadow! Last, we had a special groundhog snack: a burrow with a groundhog peeking out. 🙂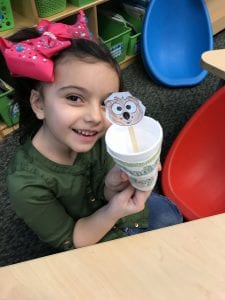 FRIDAY: 100th DAY OF SCHOOL
Check out the earlier 100th Day blog post for pictures and details about Friday's fun. 
---
CELEBRATIONS:
Top Frog – We loved having Colton as our Top Frog. Miyah will be our top frog this week. 
Outstandings – Three of our kindergarten friends were given Outstandings this week from Mrs. Reagan for their hard work, kind manners, and great listening. We are so proud of Nathan, Micah, and Miyah for earning Outstandings! 
---
Notes for Parents:
I know we've had a LONG break from

Take-Home books

, but we are back in the swing of things starting today. Please be sure to read these books with your child and return them to school on Mondays, Wednesdays, and Thursdays!

Winter Gear

: Please make sure your child is all bundled up and ready for the cold winter weather! We play out in the fields, and our playground does not get plowed, so please make sure to send your kindergartener in snow pants, boots, mittens, a hat, and a coat on cold winter days! Thanks for your help. 🙂 

Clorox Wipes:

Our class is running very low on our supply of Clorox wipes! We use these daily in our room – germs travel FAST in kindergarten especially! If you have any interest in supporting our classroom by sending a box of wipes in, they would be greatly appreciated! 
---
Upcoming Dates:
Monday, February 11 –

Music, 

Take-Home Books

Tuesday, February 12 –

P.E.

,

 Library,

Valentine Cards due!

 

Wednesday, February 13

 – Art,

Take-Home Books

Thursday, February 14 – STEAM, Take-Home Books, 

Valentine's Party @ 1:50-3:00

Friday, February 15 –

Music