I hope you stayed warm and had lots of fun on this snowy weekend! Please make sure to send your kindergartener in FULL winter gear tomorrow, since it will be cold, snowy, and slippery!
Here's a snapshot of our learning this week:
OUR LEARNING:
Popcorn Words – Our popcorn words this week were "make,"and "said." Since "make" is a word with a magic "e," we continued learning about "magic e," which is a special letter that comes at the end of some words…it makes the vowel say its name and makes a whole new word! (For example: cap –> cape) We are also practicing writing our first AND last name independently by the end of the year! 
Math – We continued our math rotations this week while learning about the following topics. We learned that EVERY teen number has the number 10 hidden inside of it! We also have been practicing adding and subtracting within 5 (using numbers 0-5). Additionally, we explored sorting by thinking about the different ways we can sort objects…by shape, size, or color.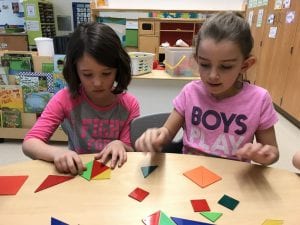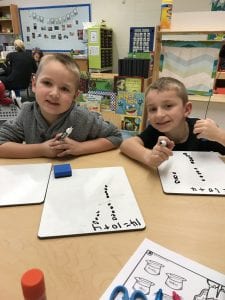 Writing – We continued our new unit: SMALL MOMENT WRITING. For this unit, students write a story about one small moment from their lives. This week, your kindergarteners got their own story paper, and we all wrote the same small moment story together as a class. They drew pictures of the three parts of their story and sounded out words to write sentences for each section. They were so excited to bring these home and share them with you! This is CHALLENGING work for our kindergarteners, and your encouragement means the world to them.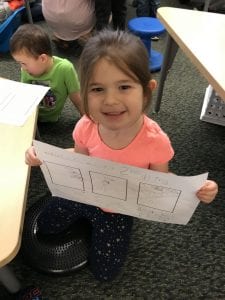 Reading – In reader's workshop this week, we learned about even more of our READING SUPER POWERS! Our powers help us read tricky words and stories. Here are the powers we "activated" this week: Sound Power: We sound out tricky words instead of just guessing. Persistence Power: We don't give up when words are tough! We keep trying different super powers until we can figure it out. Partner Power: Our partner can help us read tricky words together. Book Talk Power: We can talk about a book before and after we read it. 
---
CELEBRATIONS:
Top Frog – We loved having Christian as our Top Frog this week! Colton will be our next Top Frog.  
Fort Party – The class had lots of fun making forts at Friday's 10 Star Reward party!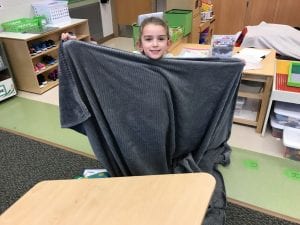 Outstandings – Mrs. Reagan recognized two more kindergarteners from our class who have been making great choices! Congratulations Dallon & Kayla!
Lunch Fun – This week, I have been eating lunch in the lunchroom with our class and they are LOVING it! It's so fun to just spend time talking with them and giving them some extra love and attention! 
Mystery Reader – Henley was overjoyed to see her dad surprise our class as our mystery reader on Thursday afternoon! He read us two Pete the Cat books, which are some of our class favorites. Thank you for coming to read with our class! 
---
Notes for Parents:
Take-Home Books came home on Friday. Please be sure to read these books with your child and return them to school on Mondays, Wednesdays, and Thursdays!
Mystery Readers: If you would like to be a mystery reader in our classroom, please sign up on this site. 

Winter Gear: Please make sure your child is all bundled up and ready for the cold winter weather! We play out in the fields, and our playground does not get plowed, so please make sure to send your kindergartener in snow pants, boots, mittens, a hat, and a coat on cold winter days! Thanks for your help. 🙂 
---
Upcoming Dates:
Monday, January 21 –

Music, Take-Home Books, 

Dr. MLK Jr. Day 

Tuesday, January 22 –

P.E.,

 Library

Wednesday, January 23

 – Art,

Take-Home Books

Thursday, January 24 – STEAM,

Take-Home Books

Friday, January 25 –

Music