OUR LEARNING:
Popcorn Words – Our popcorn words this week were "yes," "no," "stop," and "go." Our color word was "orange." We brought home orange pumpkins this week, sang a pumpkin song, learned about the parts of a pumpkin, and made an orange tiger craft to celebrate our color of the week!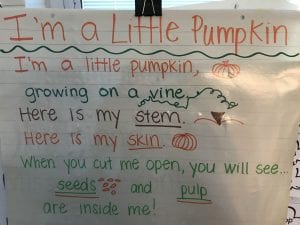 Math – We took our Unit 1 assessment this week, and our kindergarteners rocked it! They got to use special offices for privacy (which they thought was so fun), and they did their best to show all that they've learned so far in math. We also began Unit 2 later in the week by becoming "Five Finders." When counting bigger numbers (6-10), we look for a group of 5 first then, we can count on to find the bigger number. 
Writing – We are now writing and tracing full sentences below our pictures! We are learning how letters, words, and punctuation all go together to make a sentence. This week, our writing pages had some words missing from the page, so we wrote them in all by ourselves!!! They are becoming such confident writers. 
Reading – Our readers are learning how to become expert storybook readers! Storybooks are books that we love SO much that we read them over and over until they're practically memorized. 🙂 This week, we learned that storybook readers look at the pictures for clues about the words, they talk like the characters, and they make the words and pictures match when they tell stories. 
Handwriting: We continued learning how to write our lowercase letters this week with the Counterclockwise Family. We practiced writing the letters e, s on whiteboards, in the air, and in our handwriting books. 
Literacy Centers – We started something new in our classroom this week: Literacy Centers! These are Miss Hutchison's favorite time of day! Students work independently in small groups on literacy-related tasks that are "just right" for their level. During this time, Mrs. Straub (our teacher aide) and I can work with small groups of students on specific skills. Our kindergarteners have done an AMAZING job at literacy centers so far!!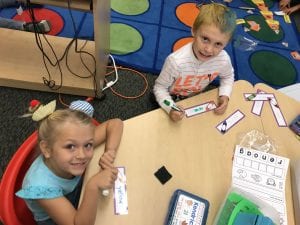 ---
CELEBRATIONS:
Top Frog – We loved having Dallon as our Top Frog this week. Next week's top frog is Dominic! Your child will have a chance to be our top frog soon, too. 
Mystery Readers – On Wednesday, Elise's mom surprised our class and read these books to us: The Squeaky Door, Don't Let the Pigeon Drive the Bus, and This is a Ball. Thank you for sharing your love of reading with our classroom! 
Fifth Grade Buddies: Our fifth grade buddies stopped by our classroom this Thursday to do a super fun project with us: "Disguise a Pumpkin!" The kindergarteners had to work with their buddies to disguise a pumpkin to keep it from turning into pumpkin pie!! The kids had a blast with this activity – we had pumpkins disguised as cats, football players, superheroes, and more! Thanks to Mr. Cooley's class for helping us with this fun activity. 🙂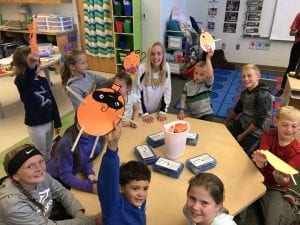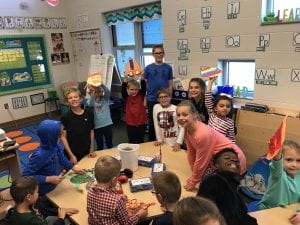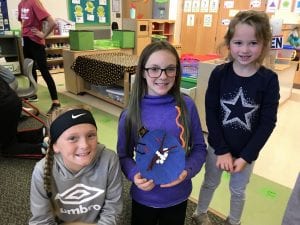 ---
Notes for Parents:
Interested in helping with our Fall Party? Please sign-up on this sheet. Thanks in advance!
Pumpkin Characters are due by this Friday! Please send these in with your child this week. 🙂 
Please keep your child's library book in the labeled plastic bag when returning it to school. Once we check out our books at the library, all of the books get placed into one basket, so the labeled bag is the only way we know whose book is whose. Thanks so much for your help! 🙂 
---
Upcoming Dates:
Monday, October 22 –

STEAM

Tuesday, October 23 – Music,

Library, Turkey Trot 4-6 pm

Wednesday, October 24 –

P.E.

Thursday, October 25 –

Art

Friday, October 26 –

STEAM,

 Wear Brown,

Pumpkins due