OUR LEARNING:
Popcorn Words – Our popcorn words this week were "get" and "and." We are becoming super readers, and we know TONS of popcorn words now!

Math – We started Unit 4 of math this week, which began with finding "partners of 10." We will be digging deeper into the number 10 and teen numbers throughout this unit. 
Writing – We are almost finished with our unit: SMALL MOMENT WRITING. We kept filling up our writing binders by writing small moment stories about lunch, birthday cake, and more! We also learned the importance of checking our writing once we're done. Here's what our writing checklist looks like: 1- Start each sentence with a capital letter. 2- Use spaces between each word. 3- Add a punctuation mark to the end of each sentence. 4- Make sure your writing makes sense. 5- Make sure the pictures and the words match.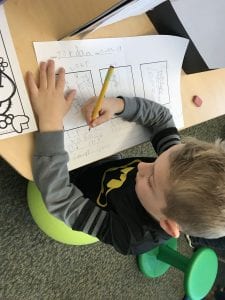 Reading – This week, we practiced looking at the ends of words when we are reading. Usually, our young readers look just at the first letter in a word and guess until they get it right. 🙂 We are practicing the skill of reading through the WHOLE word to figure it out without guessing anymore! We played a word discovery game to practice this skill with our reading buddies. 
Me on the Map – This week, we began to find our special place on the map! We began by looking at the world, then North America, the United States, then Michigan. We will get even more "zoomed in" on the map this week.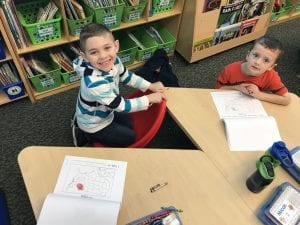 ---
CELEBRATIONS:
Top Frog – We loved having Jordan as our Top Frog this week. Harper will be our new top frog next week.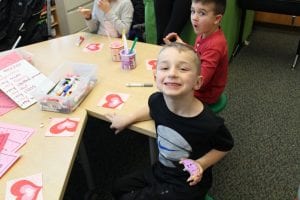 Mystery Reader – Elise jumped right up when she saw her dad walk through the door on Thursday! He read us three super cool books from a series, one of which was Ada Twist: Scientist. The kids loved learning about new careers through storybooks! 
Kids Heart Challenge – Our kiddos started learning about the Kids Heart Challenge (formerly "Jump Rope for Heart") this week in P.E.. Please take a moment to check out this blog post and register your child for this awesome challenge! 
---
Notes for Parents:
Take-Home Books are in full swing. Please be sure to read these books with your child and return them to school on Mondays, Wednesdays, and Thursdays!
March is Reading Month – If you would like to sign up for a breakfast item for our Reading Month Breakfast on March 22, please sign up on this spreadsheet. Also, if you would like to send in a book-themed snack on another day in March, please sign up on this sheet as well. Thanks for supporting our eager readers! 
Parent Teacher Conference forms were due back to school on Friday. Please email me if you are unable to make your scheduled conference time and we can make other arrangements! I can't wait to see you and update you on your child's amazing growth so far this year! 
---
Upcoming Dates:
Monday, March 4 – STEAM

,

Take-Home Books

Tuesday, March 5 –

Music,

 Library

Wednesday, March 6

 – P.E.,

Take-Home Books

Thursday, March 7 – Art, Take-Home Books, 

Wear clothes with words!

 

Friday, March 8 – STEAM

,

Early Release @ 12:15, 

All-school PJ day